Like most families, you're probably not sure how you'd squeeze one more thing into your monthly budget. But the truth is, thanks to a 529's tax benefits and compounding power, saving a little for college now could cost you a lot less than repaying loans when it's time for college.1
How? Consider investing just $25 every month in a College SAVE account. That's less than the cost of one family night out. Or skip a few coffees every week. No matter what splurge you cut, you'll feel good knowing that you're saving for the future.
Start a savings conversation with your children.
Talking to them while they're still young can help them play an active role in making their future a success. The College SAVE Plan has a few tools to help:
Mobile apps that get kids thinking about money and what they want to do when they grow up: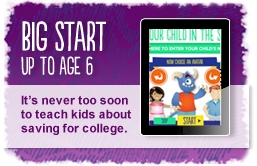 Little by Little ebook: Children become a part of a series of short stories designed to teach them how little by little things grow.
What is Money?: We explain the basics of money and why it is important.
When I Grow Up: Through activity based interactions they'll think about what they want to be in the future.
Save, Share, and Spend: Save for the future, spend today, share a little with those in need.
---
Dream job finder: Interactive gameboards let kids follow their interests to uncover their dream jobs, whether they love sports, art, music, technology, business, helping others, being outdoors, shopping, or being involved in the community.
Get educated: Find out how much college or vocational school your child will need to achieve the career of their dreams.
Compare results: Parents take the challenge to see how well they really know their child and what it takes to help them reach their dreams.
---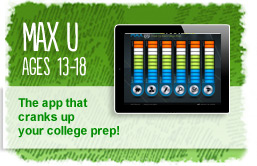 College Cost Cruncher: Get a ballpark estimate of what your college degree could cost.
College Compare-izer: Compare your favorite schools based on a list of criteria that's important to you.
Brag Bank: Keep track of your experience to build a stronger college resume.
FAFSA Checker: Organize the items you need to fill out your FAFSA.
1A plan of regular investment cannot ensure a profit or protect against a loss in a declining market.
Ascensus Broker Dealer Services is the distributor of the North Dakota College SAVE plan, Learn more about Ascensus Broker Dealer Services, LLC on FINRA's BrokerCheck.
For more information about North Dakota's College SAVE Plan (College SAVE), call 1-866-SAVE-529 (1-866-728-3529) or click here to obtain a Plan Disclosure Statement. Investment objectives, risks, charges, expenses, and other important information are included in the Plan Disclosure Statement; read and consider it carefully before investing. Ascensus Broker Dealer Services, LLC (ABD) is Distributor of the College Save.
Please Note: Before you invest, consider whether your or the beneficiary's home state offers any state tax or other state benefits such as financial aid, scholarship funds, and protection from creditors that are only available for investments in that state's qualified tuition program. You should also consult your financial, tax, or other advisor to learn more about how state-based benefits (or any limitations) would apply to your specific circumstances. You also may wish to contact directly your home state's 529 college savings plan(s), or any other 529 plan, to learn more about those plans' features, benefits, and limitations. Keep in mind that state-based benefits should be one of many appropriately weighted factors to be considered when making an investment decision.
College SAVE is a 529 plan established by the State of North Dakota. Bank of North Dakota (Bank) acts as trustee of College SAVE Trust, a North Dakota Trust, and is responsible for administering College SAVE Trust and College SAVE. ABD, the Plan Manager, and its affiliates, have overall responsibility for the day-to-day operations of the Plan, including recordkeeping and marketing. The Vanguard Group, Inc. (Vanguard) provides underlying investments for the Plan. The College SAVE's Portfolios, although they invest in mutual funds, are not mutual funds. Units of the Portfolios are municipal securities and the value of units will vary with market conditions.
Investment returns are not guaranteed and you could lose money by investing in College SAVE. Participants assume all investment risks, including the potential for loss of principal, as well as responsibility for any federal and state consequences.
Not FDIC Insured. No Bank, State or Federal Guarantee. May Lose Value.
Vanguard and the ship logo are trademarks of The Vanguard Group, Inc. Upromise is a registered service mark of Upromise, Inc. All other marks are the exclusive property of their respective owners. Used with permission.